Laser Services
BBL, Halo, Hair Removal, SkinTyte and Vasular Reduction, Facials & Chemical Peels
PHOTOTHERAPY – BBL BROADBAND LIGHT™. Treatment of sun damage, age spots and redness.
What is BBL BroadBand Light?
BBL is an innovative light-based technology that sets new standards for treating skin conditions associated with aging, active life-styles and sun damage. BBL light energy allows your clinician to design treatments personalized for your skin and precisely treat age and sun spots, small facial veins, and many other skin defects. BBL phototherapy is noninvasive so you can receive comfortable and effective treatments to fit your schedule, even on a lunch break.
How does BBL work?
BBL deposits pulses of light energy that gently heats the upper layers of skin. Within the skin, the light energy is absorbed by targets, such as fine, broken vessels that cause redness and brown spots or pigmented lesions that are caused by an overproduction of melanin. This scientific and biological process destroys the target, eliminating it from the skin and restoring it to its natural beauty, blending its natural tones, making it more vibrant and youthful in appearance and touch.
What conditions can be treated with BBL?
Pigmented Lesions (e.g., freckles, age spots, melasma)
Vascular Lesions (e.g., small blood vessels, rosacea and other micro-capillary flushing conditions)
Acne
Skin laxity
Uneven Skin Texture
Unwanted Hair
What areas can be treated?
Any area of your body can be treated. The most popular treatments are on the face, neck, back of the hands, chest and shoulders.
Can tanned skin be treated?
An active tan from the sun or tanning beds is not appropriate for treating with BBL. Tanned skin has a lot of pigment or melanin that may also absorb the BBL light energy. It is recommended that a person does not have sun exposure in the area to be treated for a period of 3 weeks prior to treatment with BBL. Self tanners must be faded from the skin for at least a week to 10 days prior to treatment. Discuss with your clinician the possibility of tanning during your series so that a safe regimen can be created.
What conditions can be treated with BBL?
Pigmented Lesions (e.g., freckles, age spots, melasma)
Vascular Lesions (e.g., small blood vessels, rosacea and other micro-capillary flushing conditions)
Acne
Skin laxity
Uneven Skin Texture
Unwanted Hair
How many treatments will I need?
The number of treatments needed varies from patient to patient and your clinician will personalize a treatment plan based on your skin defects and the level of improvement you desire. Your clinician may also combine your treatment with other popular aesthetic procedures to further enhance the outcome.
What will happen during the procedure?
Your eyes will be protected with safety shields or glasses. You may briefly feel a warm or "rubber band snap" sensation as the light is absorbed by the targeted areas. Your procedure may take a few minutes to a half an hour depending on the size of the area to be treated and the type of procedure performed. Your clinician will discuss all of your options with you.
Will it be uncomfortable?
The procedure is gentle, noninvasive and safe. Generally, there is no need for a topical anesthetic but your clinician may choose to use it on more sensitive areas.
What should I expect after the treatment?
You may experience some redness that should resolve within a few hours. Pigmented lesions will darken and gradually flake off and fade over the next 7-10 days. Often your treated skin will feel smoother, fine lines and pores begin to be less noticeable, and sunspots or uneven pigmentation will fade. Results depend on your skin's condition, the number of treatments, and the area treated. Your clinician will provide you with complete information about the post treatment care and results.
How long will it take to recover?
This is a noninvasive and gentle procedure with virtually no downtime. In most cases, you are able to return to work, apply makeup, and resume most of your activities immediately.
What aftercare do I need?
It is important to follow your clinician's instructions. You may be given some skin care products and instructions on how to use them. If you must go outdoors, it is recommended that you cover your treated skin and use sun block of SPF 30.
BBL technology provides safe, effective, and fast acting treatment to reduce mild to severe acne. The Intense Pulsed Light destroys the bacteria present in acne skin while inhibiting future breakouts. The IPL also coagulates scar tissue, refining pores and improving skin healing and texture. Acne scarring is dramatically reduced, if not completely eradicated. Treatments can bring significant improvement to active acne, often eliminating or reducing the need for acne medications. Healing time is minimal, infection risk is eliminated, and clients feel little to no pain.
HALO – Hybrid Fractional Laser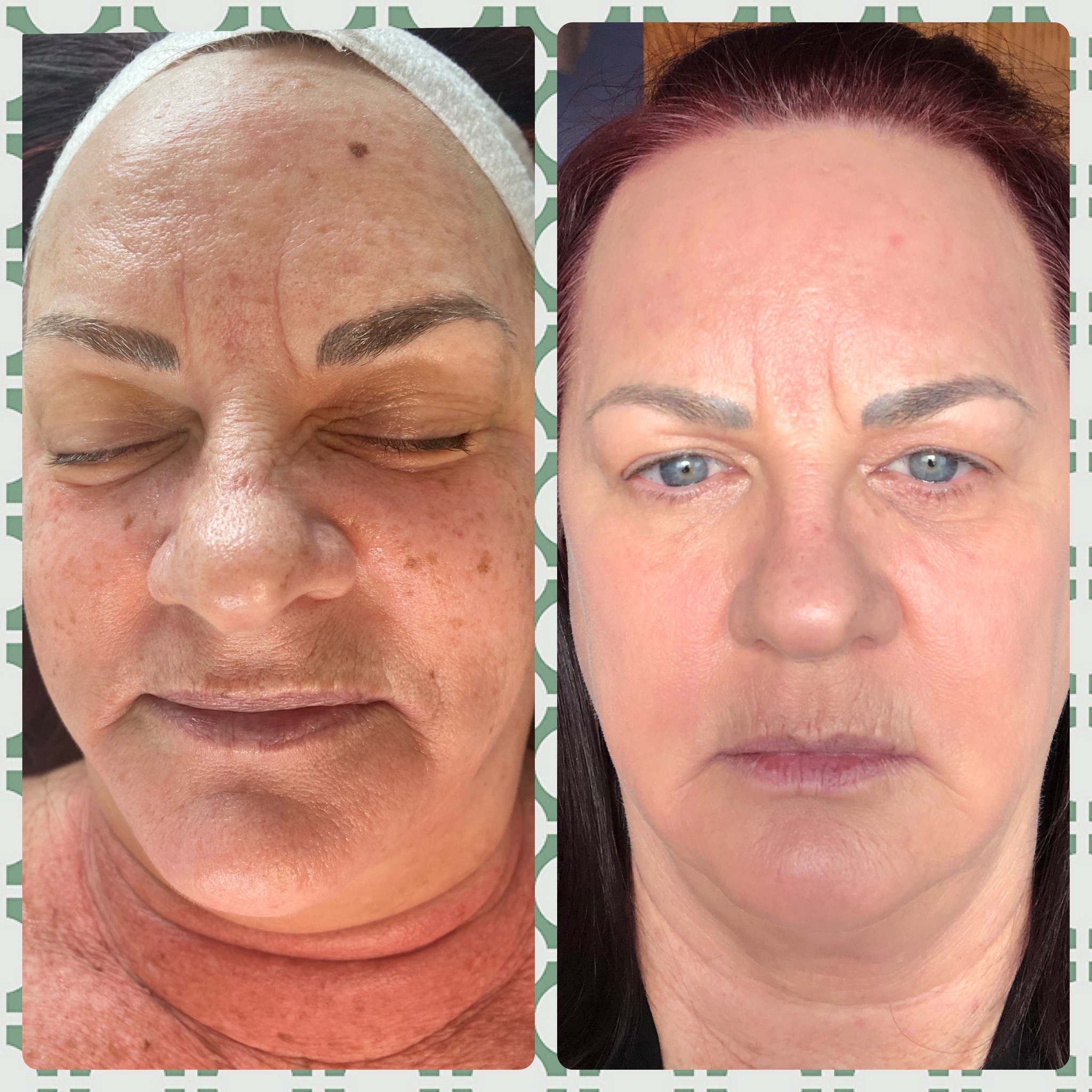 Over time, your skin can lose its youthful glow due to sun exposure and your body's natural aging process. Halo eliminates years of damage by precisely targeting the right depth and restoring the luminous glow you had when you were younger.
Everyone's skin is different. Everyone's needs are different. Halo allows your clinician to customize your treatment to fit your lifestyle. Need to be back at work tomorrow? A light treatment creates smooth, vibrant skin that's ready for makeup the next day. Want to WOW them? A more intense treatment will give your skin that youthful glow with just a few days of downtime.
In the past, you had to choose between a procedure that offered really great results but required a lengthy recovery, or a procedure with a fast recovery but marginal results. Now with Halo you get the best of both worlds: great results with minimal downtime. Halo combines deep dermal rejuvenation with epidermal renewal for a combined synergistic effect you can't get with any other treatment. Halo creates beautiful results without the downtime of more aggressive treatments.
Halo precisely targets years of damage to your skin, including:
Discoloration
Sun damage
Visible signs of aging
Uneven skin tone
Enlarged pores
Poor texture
Fine lines
Scar revision
If you're tired of fighting a losing battle against unwanted facial and body hair, it's time to consider laser hair removal at Skin Edit. We understand that concern over excessive, dark, thick, or unwanted body hair is more than simply an inconvenience — it's something that can cause feelings of self-consciousness in social situations. Our goal is to provide a practical and affordable alternative, one that is designed to reduce the prominence of unwanted hair for a lifetime.
A diode laser uses semiconductor technology that produces coherent projection of light in the visible to infrared range. … These unique characteristics make the diode laser the most suitable technology for laser hair removal, enabling safe and effective treatment of all skin and hair types, in all body areas. The absorbed light heats the hair, which damages and destroys the regrowth potential of the follicle – all without damaging surrounding tissue. Since the follicle must be in active growth in order to be affected by the laser, sessions are staggered over a period of months, ensuring the eventual destruction of as many follicles as possible, and giving you painless, effortless results.
Full Back
Package of 5 (45 minutes): $900
What is SkinTyte?
SkinTyte is a non-invasive, no downtime, aesthetic procedure that uses light to heat the deep layer in the skin, activating the body's repair response to make and remodel collagen. Over time, this process reduces the appearance of loose, saggy, lax skin. The SkinTyte treatment is based on the principle of selective photothermolysis and utilizes pulsed light technology to deeply heat your skin while cooling and protecting the entire treated surface. SkinTyte can be provided quickly and comfortably with no downtime. The end result is a more youthful appearance.
How does SkinTyte work?
As our skin ages, its base foundation known as the dermal matrix begins to lose its tight, interwoven structure as some of its elastin and collagen strands become stretched. There is also a decreased production of collagen and elastin. The SkinTyte procedure utilizes infrared thermal energy to deeply heat collagen in the dermis. The heat also initiates the body's natural healing or repair process, which creates a renewed collagen foundation leading to increased skin firmness. Powerful cooling maintains the outer surface of your skin at a cool temperature before, during, and after each pulse providing the patient a comfortable and safe procedure.
Who should consider SkinTyte?
The procedure is recommended for those who desire mild to moderate, noticeable skin improvement, without surgery.
What is the treatment like?
The SkinTyte light energy is delivered in a sequence of rapid, gentle pulses. Typically, a topical anesthetic is not used. However, your clinician may choose to use one on more sensitive areas. A series of pulses will be repeated over the treatment area to ensure the best results. While the face and neck can typically be treated within 30-45 minutes, the actual time will depend on the volume of the area treated.
How much downtime will there be after treatment?
The SkinTyte treatment is non-invasive so there is no downtime. Patients are able to immediately resume their normal activities and even apply makeup or sunscreen after each session with no visible signs of treatment. You may experience some mild redness in the treated area, but this will fade away within minutes post treatment.
What areas can be treated?
SkinTyte treatments are safe for all skin colors and can be performed on any area of the body where an improvement in your skin firmness is desired. Popular areas include the face, neck, abdomen, thighs, hands and arms. You should consult with your practitioner regarding the treatment options that are best for you.
How many treatments will I need before I begin to see results?
3-5 treatment sessions are often recommended to achieve maximum collagen rebuilding and skin firming, but your practitioner can work with you on a personalized treatment plan. Patients may see immediate firming results right after treatment, but the full effect of improvement is achieved several months after treatment as collagen continues to rebuild.
What aftercare do I need?
No special skin care regimen is required following treatment. However, you should always protect your skin from direct sun exposure and use a good sunscreen. Your practitioner can also recommend a home skin care regimen if desired.
Am I able to have other laser or light treatments with SkinTyte?
Yes, there are many procedures that your practitioner may recommend to you to have in tandem with SkinTyte.
Vascular Removal & Reduction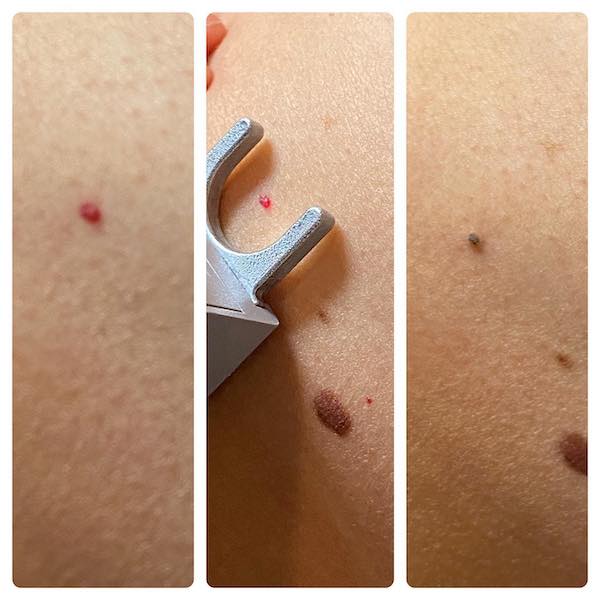 The Spectrum Long Pulsed Yag removes unsightly facial veins, angiomas and small vascular lesions from any area of the body. Treatments can be performed quickly and without bruising. In addition, spider veins and large blue leg veins (3mm and under) can also be treated with Spectrum Long Pulsed Yag, yielding excellent results. The Spectrum YAG laser penetrates through the skin and is readily absorbed by hemoglobin and melanin chromophores (veins and vascular lesions). The Laser light is delivered through the skin and into the vein. After heating, the vein walls collapse, and seal shut. The sealed vein is then broken down and absorbed by the body.
30 mins to get as many spots / veins as time permits – $200
+ 10-minute additional increments – $100
The treatment is performed by licensed medical professional. There will be visible reduction in movement to the areas injected creating a smoother appearance to the skin which lasts for approximately three months.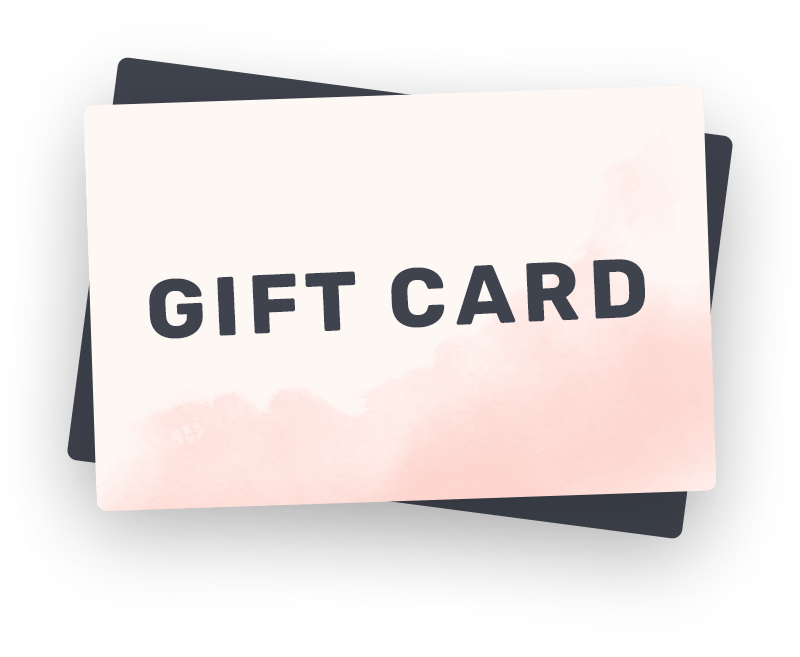 M-F: 10am – 6pm
Sat: 10am – 2pm
Sun: Appointments Only